The Biotech Licensing Business Experiences Rapid Growth
China's biotechnology industry has grown tremendously after ten years of development. It is entering a turning point of great opportunities for rapid development. A large number of innovations are driving the boom of the biotechnology industry, and there will soon no longer be a shortage of effective, modern medicines. The Chinese government is implementing a series of comprehensive science and technology plans to vigorously support innovative biotechnology companies and cultivate biomedicine as a new economic growth point. Regulatory and policy changes will speed up the import of imported drugs into China, and local biotech companies are racing to develop domestic drugs and have the strength to expand globally. According to Chinese research institutions, the size of China's biopharmaceutical market will approach 400 billion yuan in 2020.
Licensing cooperation is a very important component in the R&D of new drugs, and it is an effective way for biopharmaceutical companies to grow rapidly. From 2008 to 2017, the number of biotech licensing businesses in China increased significantly from 2 cases to more than 70 cases. Nowadays, more and more Chinese biopharmaceutical companies are rapidly enriching their product pipelines through licensing. Some powerful leading pharmaceutical companies have even globalized R&D projects or products through licensing, such as Hengrui Medicine, I-Mab, etc.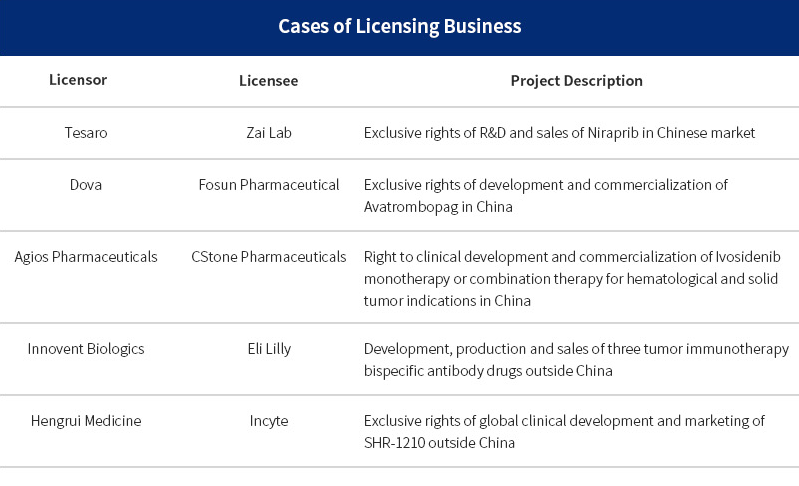 China's biotechnology industry has entered a golden age, and now is an excellent time for technological research and industrial development. J Rich Capital has a close cooperative relationship with China's leading biotechnology companies. We understand the essential needs of the Chinese market and enterprises, and we are familiar with all aspects of the licensing business. Not only can we help you find the best Chinese partner, we can provide high-quality consulting services throughout your transaction.