Real Estate
Our real estate team helps Chinese companies realize the full potential of their property assets through innovative financial tools which include REITs, CMBS and ABS.
China to be the world's largest REITs market
In earlier April 2019, Chinese bonds debuted in the benchmark Bloomberg Barclays Global Aggregate Index, an important benchmark for global investors which will attract many investors to China's domestic bond market. Different from the world's major REITs markets (e.g. USA, Australia, Singapore, Japan and China Hong Kong), no laws specified for REITs has been launched in mainland China, and the REITs-like structured financial instruments are traded in bond market by now.
Considering the establishment of China's REITs market will help China reduce the debt leverage of both public and private sectors, accelerate reforms of domestic capital market, enhance investment on public nonprofit projects, change the property development pattern and bring funding to industries other than real estate sector, the potential value of China's REITs market is estimated to exceed $ 2 trillion. China will be the world's largest REITs market at that time.
Based on the value at the end of 2018, the market value of commercial property REITs is estimated from $ 0.2 to $ 1.1 trillion while the market space of public nonprofit sector such as infrastructure is even larger than that of China's commercial REITs. The first China REITs dominated by the authority will be issued for trial in the foreseeable future.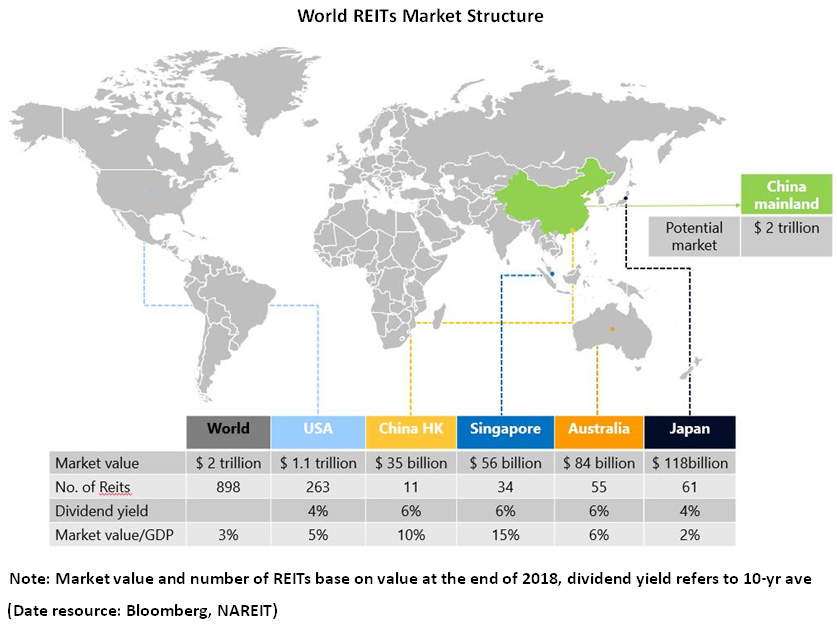 Industry Coverage
If you would like to get in touch with us, please click here.
Contact us